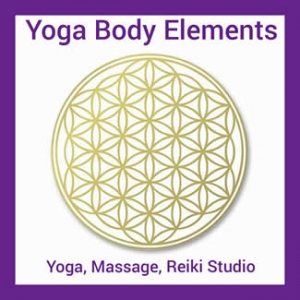 Yoga Body Elements is a friendly boutique yoga and spa studio located in Uptown on the border of the Lakeview and Buena Park neighborhoods in Chicago, IL. Specializing in Restorative Yoga, Mindful Vinyasa, Reiki, 5 Element Massage, Approved Provider Continuing Education, Bengston Method, Meditation, Dance, and Hula Hooping.
Welcoming all levels of experience.
Owner, Yoga Body Elements LLC
LMT, Reiki Master Teacher, Bengston Method practitioner
BA in Dance & Choreographer
Experienced Registered Yoga Teacher
Licensed Hoopnotica Instructor
NCBTMB Certified in Massage & Bodywork Approved CE Provider
CPR
Cindy Huston, E-RYT 200 Yoga Educator, Reiki Master Teacher, Bengston Method Energy Healer, Board Certified Massage
 Therapist and Asian Body Therapy, and Licensed Hoopnotica Method Instructor. An Approved Continuing Education Provider for Yoga Alliance and for the National Board of Therapeutic Massage and Bodywork. Born in Iowa, Cindy Huston has accredited 20+ years of teaching and choreography experience to ages 3 years to adult. She primarily teaches Bhakti Vinyasa and
Restorative Yoga. She also has experience teaching yoga to children. Cindy has a guided yoga CD available called, "Restorative Yoga with Cindy Huston." Her yoga classes are focused on balancing the physical and energetic body while embodying bhakti "heart center". She has been on staff and a presenting artist with Bhakti Fest, Yoga and Kirtan Festival. Cindy's first trip to India was on a 2014 Bhakti Yatra touring Rishikesh, Vrindavan, Govardhan, and Mumbai. During this tour through India Cindy was inspired to create Chicago Hula Hoop Festival after gifting students at the Food for Life School in Vrindavan with their first ever hoop. The excitement from the teachers and students alike was through the roof! Cindy decided that she would like to support Food for Life and donate a portion of the festival's proceeds to the school. Cindy's previous life as a dancer and choreography has appeared throughout the region. In 2002, she performed as an Entertainment Character at Walt Disney World in Orlando, FL. In May 2003, she received a BA in dance at the University of Iowa. After graduation, Cindy accepted the Lead Adjunct Dance Instructor position at Kirkwood Community College in Cedar Rapids, IA.
In May 2004, Cindy moved to Chicago to further her career in dance performance. Performance credits include: Sarasota Opera House, Walt Disney World, MidTangent Productions, Culture Shock Chicago, Weave Soundpainting Orchestra, Perceptual Motion Inc., Subtext Dance "Playing in Traffic" project, Fire for Higher Professional Fire Artists, and dancing back up for solo vocal artists just to name a few. Cindy is a licensed massage and Asian Body Therapist and graduate of Pacific College of Oriental
Medicine.
Her modalities include Thai, Shiatsu, Tui Na (Acupressure), Deep Tissue/Trigger Point, and Swedish/Circulatory massage, Reiki, and the Bengston Method. Frequently Cindy offers Approved Continuing Education courses that are approved by Yoga Alliance and the National Certification Board for Therapeutic Massage and Bodywork. Courses include: Yoga for Massage Therapists, Reiki 1, Reiki 2, Reiki Master & Teacher, and Restorative Yoga Teacher Training.
Cindy thrives to creatively continue exploring the body potential to naturally heal and it's infinite possibilities to express through all traditional and non-traditional forms of movement.
Cindy Huston on Inner Quest Interview
copyrighted 2016
Self Declaration: My purpose in life is to support and educate communities on ways to achieve a healthy and clear lifestyle that serves their life path. By becoming aware of what we surround our bodies and lives with, we can create body awareness of movement and self expression to maintain a clear energy flow.